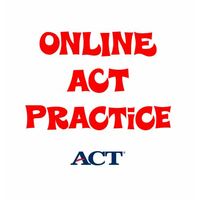 If you're planning to take an upcoming ACT test, taking a practice test will help you determine areas that need some additional attention. This practice test will be an virtual/online practice test due to the school closure from Covid-19.


ACT Online Practice Test
conducted by Tried & True
Saturday, March 20th
9:00 am - 1:00 pm
Zoom session will begin promptly at 9:00 am.
Deadline to register: Wed, Mar 17th at noon PST

**The 9:00-1:00 time frame allows for the standard time allotment for each section of the practice test. If your student has qualified for additional test taking time through the district, please note that this practice test does NOT allow for additional time. Many vendors are willing to make arrangements directly with families to offer practice test opportunities at their offices that can accommodate additional time.

After the registration deadline on March 17th, a representative from Tried & True will email parents (to the email used for this registration AND an additional email address you provide in the box on the right - CANNOT be a student srvusd.net email address) with testing instructions and a link to access the Zoom session. Test results will be available immediately following the completion of the practice test. The proctor will explain to students how to access those results.

Registrations are non-refundable and non-transferable. If your student is unable to attend the practice test after they've registered, we thank you for your donation to support the Monte Vista Academic Boosters.
If you have questions please contact: Jen Lindsay at
classes@mvacademicboosters.org
.
Reminder emails will be sent from this email so please add it to your address book to ensure reminder emails are not lost in your spam folder.