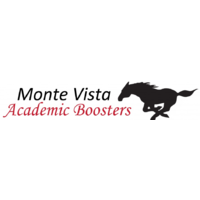 ACADEMIC BOOSTERS EDUCATION FUND - Your annual contribution is critical to funding additional classes and supporting academic excellence at Monte Vista High School. These funds help increase the overall number of classes offered thereby reducing class sizes, optimizing the instructional environment for all learning types and continuing the robust academic programming at our school. In addition, your contribution also funds Honor Roll Recognition, the annual SRVUSD College Night, extra College and Career Advisor hours and coordinate on-campus, College Test Prep and application Essay Workshops.

By making your contribution before May 14, your funds will be immediately deployed in the 2021-2022 school year. Your contribution is tax deductible.

CONTRIBUTE ANNUALLY: Please give as you are able every year. This gives Monte Vista budget certainty year after year. Contributions big or small contribute to the overall success of creating class sections. Our goal is to fund 16-18 sections every year. Installment payments are available with online contributions or download the "Pay by Check" form & mail with check as directed. Suggested donation = $495 per student

BACK BY POPULAR DEMAND! One free spot at our Fall Combo ACT/SAT Practice Test & Strategy Session for every $495 contribution. Eligible students take a practice ACT/SAT test, receive individual results and learn test taking strategy tips for improving scores. Eligible donors must request to be placed on our interest list using the link below. You will be contacted in early September with instructions on how to register for this free test.
OTHER WAYS TO HELP: Company Match, Appreciated Stock Donations & College Test/Essay Prep all help raise more funds. Contact: president@mvacademicboosters.org

Donations made during this Spring Campaign, will fund the additional classes for this Fall. THANK YOU & GO MUSTANGS!!
Your donation is tax-deductible to the full extent provided by law. No goods or services were provided in exchange for your contribution. ACADEMIC BOOSTERS is a 501(c)(3) nonprofit organization Tax ID: 68-0260241