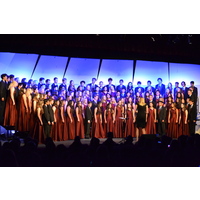 Donate to
Friends of Monte Vista Choir
(FOMVC) ~ the choral music program booster group. All expenses for the choir program, except for the director's salary, are paid for by FOMVC. Visit
mvchoir.org
for more information.
Since all choir classes will be held on-line, we have different funding needs for the program. Although traditional concerts are on hold, we plan to create virtual concerts. Our director needs our support to create enriching curriculum for our students. This is what your donation is supporting:
Software and virtual concert production expenses
Coaches and clinicians for small group instruction
Accompanist
General funds for our FOMVC to support team building, Leadership & supplies
Suggested donation:
$150 per child
$200 per child in 2 choirs

We understand this is a tough time for many, so please know we are grateful for any donation. We appreciate your support of MVHS, FOMVC & our students during remote learning.
Your donation is tax-deductible to the full extent provided by law. No goods or services were provided in exchange for your contribution. CHOIR BOOSTERS is a 501(c)(3) nonprofit organization Tax ID: 27-1758152