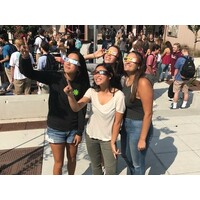 How do you teach science remotely? Very carefully. Chemistry Teacher Brady Taylor explains that demonstrations will be included in the curriculum along with experiments. Demos are needed. On his first day he plans "building a snowman in the summer followed by the flaming snowball demo to manipulate the universe and bend it to our will. "

Almost all of our students take at least one science class every year. These classes require a range of consumables and specimens - both live and preserved (biology, marine biology and anatomy), chemicals (chemistry) and equipment (physics). Please consider the $50 donation request for each lab science class.

Photo: Students watching the eclipse in the Monte Vista Senior Quad.