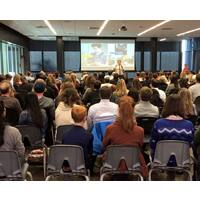 During remote learning the libraries in the SRVUSD are offering curbside pickup. Your donations today will support the acquisition of materials for digital as well as physical copies.


Rebuilding the Monte Vista Collection with current Young Adult titles, recent Biographies/Nonfiction narratives, Graphic Novels, WOKE selections, and up to date Computer Science non-fiction. Our circulation numbers were up 400% by March.
Starting an e-book and online audiobook collection. We are working with the other high school libraries to maximize availability and equity.
Expanding and maintaining databases for student research across the curriculum. The library works with the different departments to determine their needs for research.
Our library is a place for students to gather and learn. Please help make it relevant in the remote learning environment by having book selections that inspire and support student reading. Suggested donation $40.

Photo: Principal Ahern speaking to Students of Excellence and proud parents in the Workday Student Center Library.