We're sorry, this item is sold out.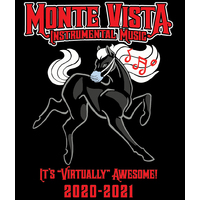 This T-shirt is for ALL Instrumental Music Classes!!

This year is a special (crazy) year so we created a new T-shirt to remember it. Artwork designed by our 2019 Drum Major, Milo Bezuidenhout!! T-shirts are black with a small logo on the left upper chest, and a large logo and wording on the back. The picture is the back of the t-shirt. Limited quantities. Don't miss out.